DBF Editor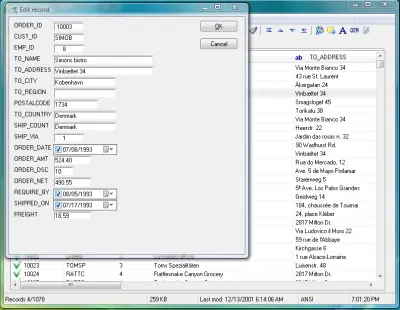 View and edit DBF files created with popular databases quickly and easily with a fast and compact tool. Extremely lightweight, Advanced DBF Editor is almost instant to load, allowing for quick preview and fast editing of your DBF files.
In-Place Editing with DBF Editor
Edit records and memos in DBF databases quickly and easily with just a few mouse clicks. No need to run a database application to make a few small changes!
Simple Searching, Querying and Filtering
Query DBF files without having to load the whole project. Sort, delete duplicates, create and print DBF files or export data to a variety of formats without additional software. Advanced DBF Editor implements an amazingly compact and blazingly fast database engine that allows manipulating DBF files without a database application installed!
Advanced DBF Editor can export and easy migrate databases
Should you need to migrate your DBF database to a different platform, look no further. Advanced DBF Editor exports all records and data from the DBF database into a variety of formats, including DBF, TXT, CSV, Excel, HTML, XML, PRG, SQL, and RTF.
DBF Editor Features and Benefits
Supports all popular dbf databases, including Clipper, dBase, FoxBase, Foxpro, Visual Foxpro, Visual dBase, dBase Level 7
Blazing fast operation
Instant Quick Preview
In-place editing
Speedy search
Convert DBF files to DBF, TXT, CSV, Excel, HTML, XML, PRG, SQL, and RTF
Multi-language
And many more useful features
Advanced DBF Editor loads and works much faster than traditional database applications. Designed as a stand-alone tool, Advanced DBF Editor does not require any external drivers such as ODBC or BDE to connect to a database. Supports Windows XP, Windows 7/8/10/11